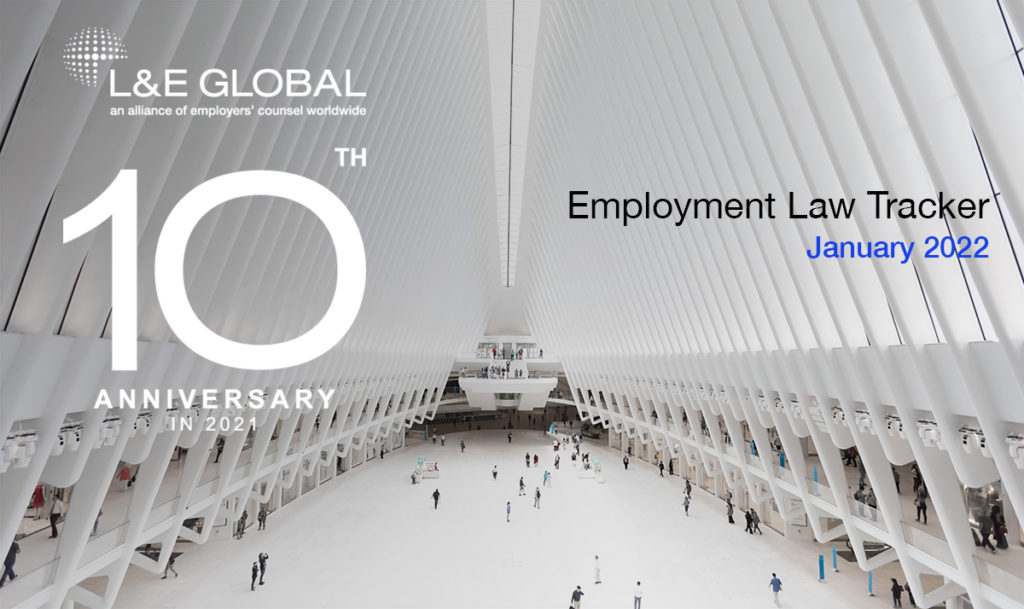 L&E Global Employment Law Tracker for January 2022
As a member of L&E GLOBAL, we would like to present the L&E Global Employment Law Tracker for January 2022 – monthly bulletin specifically designed to help employers stay up-to-date on the latest global workplace trends, including:
Brazil introduces a category of hypersuficiente workers who are deemed able to negotiate their terms of employment without the intermediation of a trade union – these are workers with a university degree and earning more than approximately USD 2,620,
in Colombia, regulations regarding the right to disconnect have been introduced. Employers must establish an internal procedure to guarantee this right – ready solutions are not imposed, the act only indicates a few categories of employees and situations excluded from its application,
in the Czech Republic, employees are tested for COVID-19 twice a week, also in the case of vaccinated employees. Refusal to participate results in the obligation to isolate the employee, also if the employee performs work from the office. In addition, the quarantine was shortened to 5 days,
in Germany, the Labour Court in Hamburg ruled that it is allowed to dismiss an employee for refusing to undergo the COVID-19 test required at the workplace on the basis of an internal employer's act, even if it is not required by generally applicable law, subject to prior warning to the employee in this matter,
in Italy, access to the workplace depends on the possession of a COVID passport – employers have access to the electronic system informing about which employee is "safe" (i.e. vaccinated, cured or tested),
Portugal introduces new regulations regarding remote work. The categories of employees authorized to work remotely include, among others victims of domestic violence and single parents. Moreover, a ban on contact with an employee during the rest period was introduced, except in situations subject to force majeure – under penalty of a fine for the employer,
in Russia, protection against dismissal for reasons not related to employees is introduced for people whose household member was dismissed for reasons not related to employees within 12 months before the date of giving the notice of termination.
Please find the newsletter under this link: https://knowledge.leglobal.org/EmploymentLawTracker/January2022/ELT_January_2022_Poland.html
We invite you to read the article!