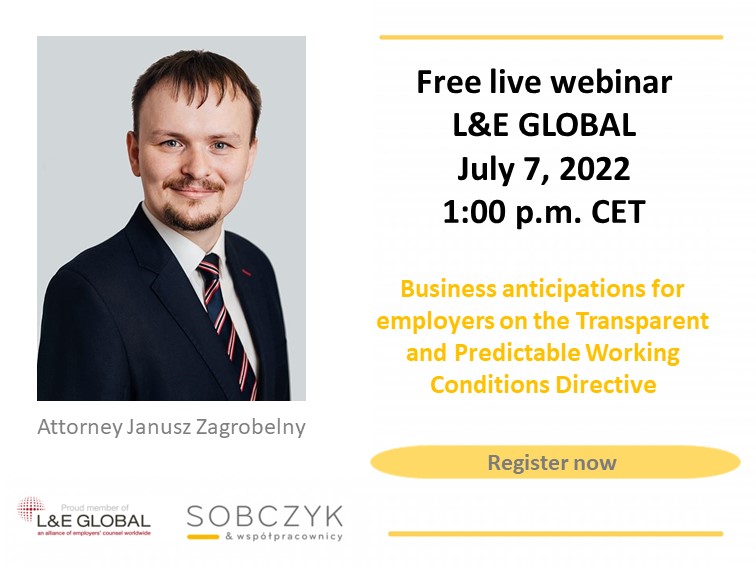 Dear All,

We are delighted to invite you to our L&E Global webinar. The webinar includes an essential labour and employment update about the upcoming Transparent and Predictable Working Conditions Directive.

The webinar will have a duration of 1 hour and is free of charge. You can register for the webinar via the specific registration button and feel free to forward the invitation to any of your colleagues.
Thursday 7 July 2022
1 p.m. Central European Time
Noon UK and Portugal time 
Business anticipations for employers on the Transparent and Predictable Working Conditions Directive
The transposition deadline for the TPWC Directive is nearing and most EU Member States are currently working on its implementation. Find out more about the core principles of this important Directive and the proposed transposition measures in Belgium, the Netherlands Spain and Poland. The Directive i.a. includes:
A written information obligation regarding working conditions
Limitation of probationary periods to 6 months
Obligation of minimum predictability of variable work
Limitation of exclusivity clauses
Right to request more predictable and secure working conditions
Obligation for employers to pay for mandatory
Speakers:
Pieter Pecinovsky (Van Olmen & Wynant in Belgium)
Stéphanie Spoelder (Palthe Oberman Advocaten in the Netherlands)
Janusz Zagrobelny (Sobczyk & Partners in Poland)
Pablo Samsó Sánchez (Suarez de Vivero in Spain
The webinar will also be recorded. The link to the recording will be made available after the webinar.

If you have any questions, please do not hesitate to contact Pascal Aarden.

We are looking forward to welcoming you at our webinar.